Matt, Sarah and Myself decided to drive down to Las Vegas for the Red Rock Rendezvous 2009, put on by
Mountain Gear
.
On the way down we went through Kennewick on the suggestion of a friend and it seemed like it took for-freakin-ever. The traffic in the big cities was to be expected and the cuisine wasn't four star food, but we drove all night and got to Salt Lake City and caught breakfast at Dennys. (After a huge loop and a change of drivers.)
Somewhere in Utah before we hit Salt Lake: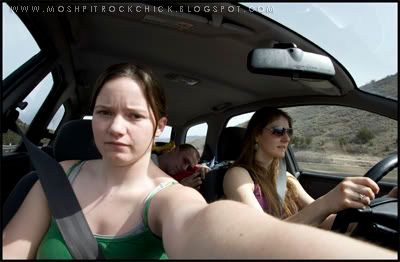 Poor Sarah put up with us well all things considered. She still doesn't seem to want to speak to us though.
Excited to be one state closer to Nevada: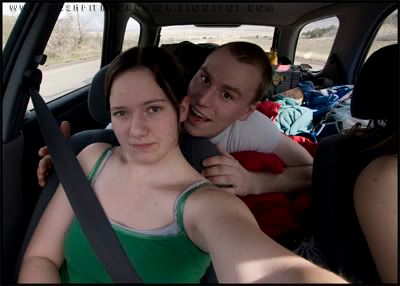 Duck was our co-pilot, take that St. Christopher!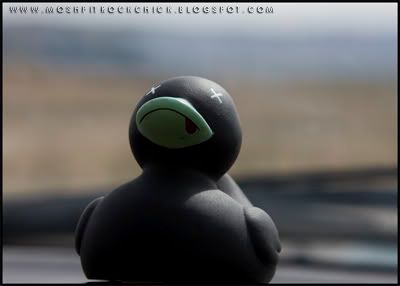 Finally we arrived at Red Rock Canyon at about 4pm on Thursday and had a little bit of time to kill before our volunteer shift started at 7pm that night, so we set up the tents and we tried to pass out. I slept for like an hour and a half, it was nice. After not having slept or eaten for hours and hours I had a beer, got a little buzz and went off to keep everyone company at the camping check in tent.
The next morning, finishing up our volunteer shift: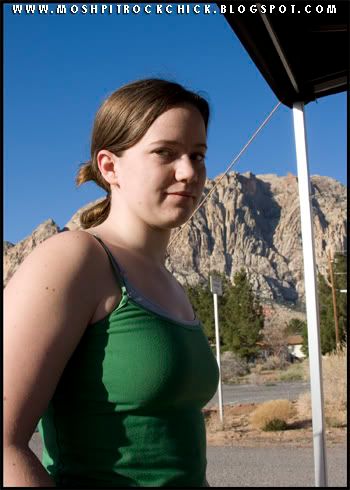 This is pretty much the most epic climbing car we have ever seen, aside from the sweet paint job and camper they have all of their snowboards, bikes, long boards and other gear somehow stuffed into it. It was parked in the athlete/vendor campground but I never got around to asking who drove it.
Once we finished our volunteer time we went to
Desert Rock Sports
and bought a couple of guide books, then we were FINALLY off to the rock.
We took the scenic drive to the Second Pullout and wandered around trying to get our bearings. Finally we walked past the Sweet Pain Wall and asked someone a good place to find some fun 10's and 11's. He pointed us to the Black Corridor, there were a TON of people in there!
Matt belaying Sarah on TR on Fool's Gold 10b. She hadn't quite gotten over her fear of leading outside, but she took care of that the next day!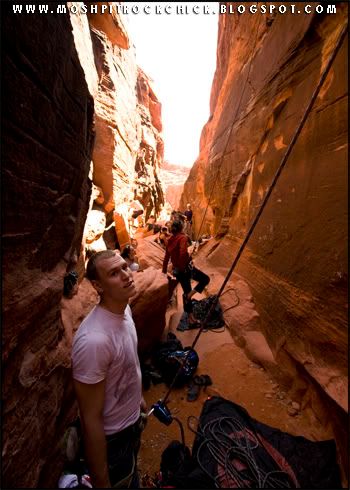 Sarah getting ready to go up (Look at all of the people crammed in this corridor):
My turn to lead up and clean it, I really liked the route, it wasn't super challenging, it was just fun to do. The second bolt was pretty much the crux minus a few long reaches at the top.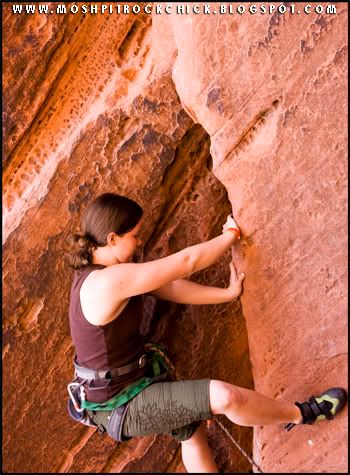 I can't get over how much I love sandstone!
Matt led another climb in the Corridor, it was an 11, the name escapes me at the moment but he whipped off it a couple of times and finally made it up it. I tried to follow on TR and couldn't get up it for the life of me. Kudos to him though. Sarah made it up on TR too so I guess she gets props as well.
Okay that is all you get for today, There will be more to come with my next posting including bouldering the Kraft Boulders at Calico Basin and routes on Cannibal Crag, some night shots and the drive home.