Welcome to the blog about a cold wet and windy clusterf*ck. Honestly it wasn't THAT bad, but it was a poor consolation for the trip to Utah that we had planned upon being on.
The weather on Saturday was perfect, not too hot or too cool and pretty calm:
We headed out to Jones Bay and found that all of the camping was either sub-par or full. After a long wait someone vacated their spot and we snagged it. Once camp was set up we headed out to climb some rotten granite.
The Inland Northwest Rock Climbs Guide is a little difficult to interpret since it is a few years old and a lot of bolt lines have gone up and a lot of bolt lines have been chopped. We settled on something that we couldn't find in the book. It felt like a 5.9, but after staring at the book for a while we determined it was supposed to be a 10c:
Gotta love that wide angle lens: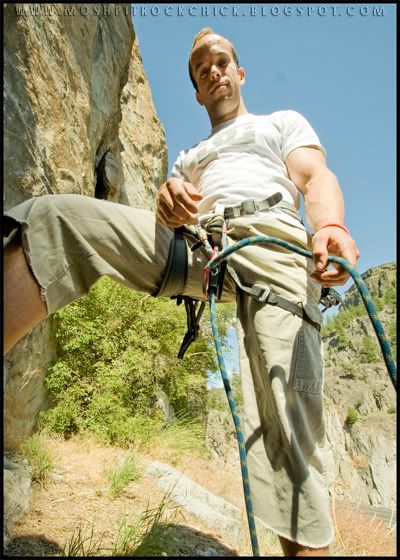 For most of the weekend Matt was the leader, Andrew the follower and I came up last and cleaned, apparently I should have been leading more pitches since the slabby crimpy sharp granite is more 'my style':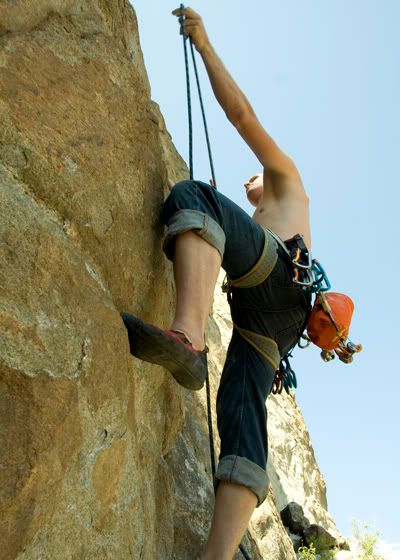 On the top of the 2nd pitch, there was a 3rd pitch but it looked pretty brutal and we weren't feeling that adventurous. Turns out is was a 12c (If I remember correctly).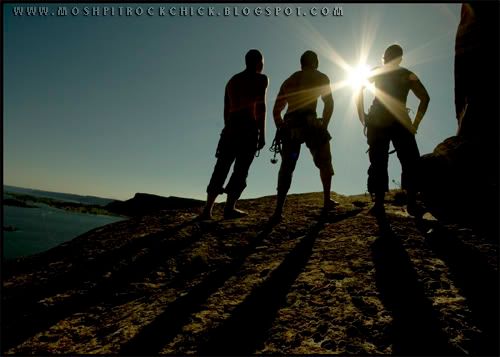 Andrew striking a pose:
That night it got a bit breezy so we made a fire, rearranged some picnic tables and sat down to drink some coronas and eat some steaks. It was a reallllly good meal.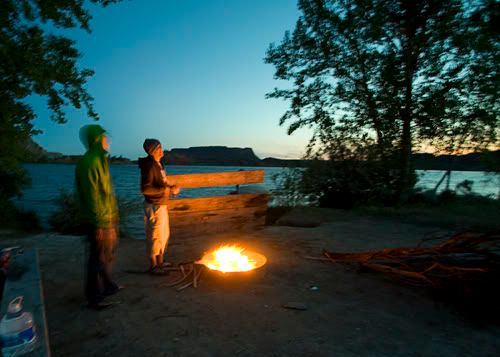 The next morning was a bit overcast. The boys got up, made some sandwiches, went back to bed, got up again, we made pancakes and then yet again they passed out, this is the definition of 'motivation' right here: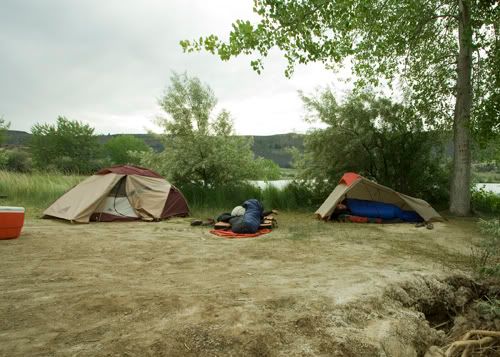 Next up we went to Northrup Canyon and climbed a really strange slabby ramp thing with a ton of underclings, I left my camera in the bag because we were on a precarious ledge and I wasn't sure I wanted to drop it trying to get a shot of someone's ass.
Andrew then took charge and was determined to find a route in the book called "Red Roof Inn" on Roadside Rock. After a retarded approach we found it...well, we could see it anyway. We weren't quite willing to backtrack to get to it so we settled for another 10c up high on the terrace. I think it was called Red Violin?
Andrew took first lead and had a rough time so Matt finished it out for him, by this point I was freezing so I decided to TR it, I wish I would have led it, it was super fun :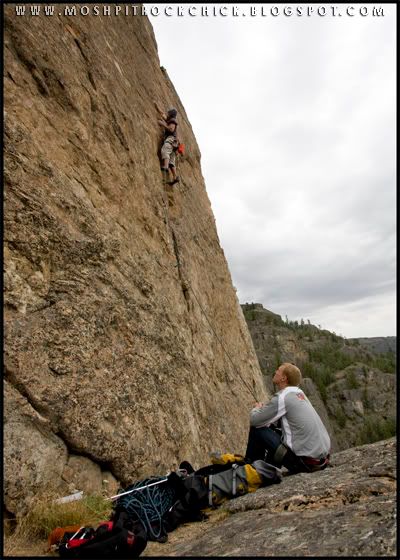 After this we went back to camp we sat around and waited for the rain to start. Apparently any card game can be adapted to be a drinking game, including War. It's a good way to get trashed before dinner. My tent still smells like Corona.
Our Sweet Ride: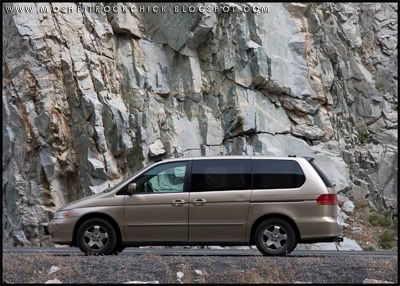 Matt Belaying on the last climb of the trip:
After this it started raining so I put the camera away and we did another pitch in the wind and rain...after several small delays that amounted to me stuck on a ledge for a half hour and poor Andrew stuck in a hanging belay in a sleeveless t-shirt for just as long untangling ropes we finally finished it out, rappelled off and got the heck out of there.