Well, despite out better judgment Joe & I ignored the blizzard warnings that were blaring all over the news and took the only route that was open and headed south for Thanksgiving. We took off Tuesday night and were greeted by snowy icy roads, ditched trucks and white-out blowing snow. No big deal, we persevered until we reached La Grande, OR where they had the road shut down to clear an accident. Against our will we spent the night in the CRV in the cold. Everything was good to go the next morning and all of the closures along I-84 had been lifted.
Nothing incredibly interesting happened for hours on end (minus cold snowy icky roads and people driving like fools)
Finally after much trial and tribulation we arrived in Leeds, UT, home of Red Cliffs Recreation Area. (Pretty much the coolest campground ever.)
We still hadn't completely escaped the chill, but we slept really well in the 20's instead of whatever the temps were up north in La Grande.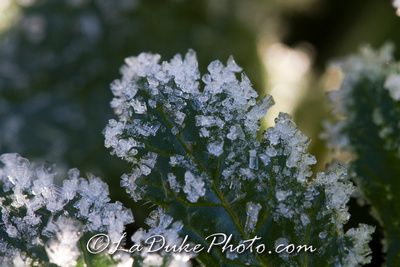 I'm always excited to wake up at Red Cliffs, it's gorgeous!
A little bit of scrambling and bouldering before breakfast.
Trip mascot, The Pirate Duck! Arrrrgggg!
Silver Reef Overlook
So we played around at St. George for a bit but decided it was a little bit cooler than we wanted to climb in so we headed down toward Vegas! Since it was Thanksgiving we arrived and set up camp then ate some stuffing and chicken and decided to go check out the strip since we didn't have enough daylight left to climb anything.
This was the only thing I cared about seeing on the strip, it's a Chuhuly piece that is inside of the Belagio.
Finally, on to some rocks!
First stop, the Panty Wall, we opted for some easy lead to warm up for the day...unfortunately so did EVERYONE else, we were the 2nd duo to the wall and it was all downhill from there. We all got our turn to climb but not without stepping on some toes and upsetting some other people who weren't great at sharing.
Eventually the company became too much to bear so we took off to catch some lunch (yay for leftover stuffing and rotisserie chicken) and stopped at the Sandstone Quarry to play around on the only boulder they had there. It may have been the only boulder but it was big and pretty fun to play on.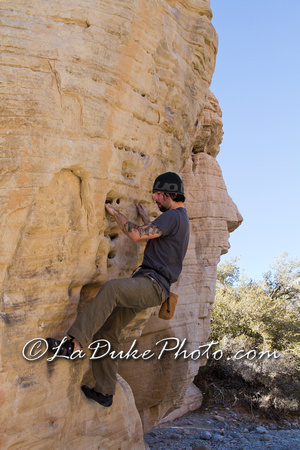 Once the daylight had left us we ran down to Calico Basin to get a few more problems in before it was too cold to feel our fingers, the boulders were busy and we met people from all over, Tuscon, the Carolinas, Montana, Colorado, etc. We shared our crash pad with a couple of awesome people who had come down from Indian Creek because the weather sucked.
Nancy trying to get reacquainted with top-outs, me up on a rock taking photos so I could huddle into the fetal position to stay warm under the guise of taking shots for posterity.
We climbed to our hearts content and then realized that our campsite at Red Rock had long since been pirated so we took off to the Luxor to meet some friends who were down to celebrate a birthday, after a little bit of pleading and begging and submitting to a makeover (sorry those pics aren't on here, haha!) we got a free night in the room with them. It was so nice to sleep in a bed and take a shower before heading back north the next morning.
We did have to make one major pit stop along the way though, on the way down we had stopped at Meadow, UT to search for a hotspring that was in the middle of no where in the dark in the cold. After a bit of hiking in -9 degree weather we located said hotspring and opted to go with our judgment and not get in, but on the way home it was 20 degrees out and sunny so it was ON!
At this point Joe and I swapped seats and I took over behind the wheel. I drove from Meadow, UT to Deer Lodge, MT. It took about 11 hours with stops for gas and to preserve sanity. Almost immediately after swapping back to having Joe drive this is what we drove into...
We made it home early on Sunday, nerves fried, both of us sick from sleeping in the cold and decided that if we got through that we can survive any road trip that gets thrown at us.