I'm working on some big things for my photography website right now with integration being the goal, so in the spirit of having everything all in one place I'm going to steer the direction of my blog toward being more 'all inclusive' as far as my outdoor adventures go. Climbing is my first love, but what do I do the rest of the time? I mountain bike, hike, camp, road trip, soak in hot springs, white water raft, road bike, etc. So with that said, here goes nothing in my attempt to broaden my blogs adventure horizons.
Last fall I decided to kill two birds with one stone by taking my first overnight backpacking trip to my first undeveloped hot spring. The destination:
Stanley Hot Spring.
It took us about 4 hours to get down to the trailhead after a long day at work and a long day of driving we parked and slept in the car for a fresh start in the morning. It was cold and miserable andthe car was a bit cramped. We woke up cranky and were super ready to get on the trail.
(Hey look, it's me!)
The hike starts winding through the giant
Wilderness Gateway Campground
and rises quickly above the Lochsa river.
Up, up, up, the trail is pretty smooth but at least the first 3/4 of it is all uphill.
Eventually you come to a split in the trail and wind your way down a rocky trail to the banks of boulder creek where we were able to pick our way across by rock hopping in late September. Rumor is though that until after spring run off the crossing is too dangerous to attempt. Be careful!
On the banks of Boulder Creek
A small tributary of Boulder Creek, despite the distance from the spring it had a few little warm spots.
Finally! Stanley Hot Spring, 3+ tiered pools from a 120 degree source that issues from a canyon wall. The top pool is REALLY hot, the largest pool is just right and has space for probably 8 people.
The good soaker, nice hot water, sandy bottom, flat rocks to sit on.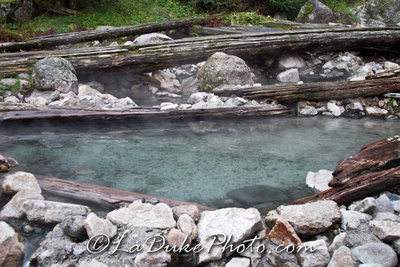 The small version of this photo doesn't really do it justice, but c'est la vie. This was a cold wet little tent where we slept like rocks after our nice long hike. The best thing about waking up cold in the morning was hopping out of the tent, stripping down and diving into the hot spring.
I wasn't going to include this but I figure hey, it's educational. When in Rome and all...
The trail description said that swimwear was 'superfluous baggage' but I brought it anyway, but I didn't feel like being the only prude in the pond so I chose to forgo the swimsuit and bathe au natural.