Every spring I make a pilgrimage to the desert in search of sunshine and warm sandstone to run my fingers across. This is no small undertaking, it usually results in a 10 day trip to visit as much of this beautiful skin pleasing red stone as I can find.
(To see all of the pics from my adventure click on the photos until you see my portfolio show up)
This year our first climbing stop on the spring 2011 Epic Adventure was St. George, Utah. More specifically we stopped out side of St. George near Leeds to camp at the Red cliffs Campground. It's a long standing favorite place of mine that is managed by the BLM and is just gorgeous. Camping costs $8/night but space is super limited. There's also camping down the road at Quail Creek Reservoir. It's not nearly as scenic but there's a lot more space there.
This shot is from the hike that is north of the camping area at Red Cliffs, it follows a seasonal creek up to a slot canyon. It's shady and pretty and has a few nice swimming holes even.
This next shot is the only one to make the blog post cut from the Green Valley Gap. We had a bit of trouble finding a convenient trail to get into the gap itself but the anchors were everywhere so we decided to rappel in and worry about it later. The rock was solid, the sun was super hot and there wasn't a breeze to be found. We knocked a couple of routes out really quickly and found a nice class IV hike to get out on the gap (in hindsight not everyone in your party was as capable of doing that hike as one might hope and we wont be putting ourselves in that situation again.)
Another object of note is that someone had set up a zipline across the gap which was pretty neat to watch.

We also made a stop at the Black Rock which is an easily accessible TR/Sport area just outside of St. George (About a mile north of the parking for Chuckwalla and Turtle Wall). The rock is basalt columns and it seemed to be very clean and strong. We stuck to the sunny side despite the fact that we forgot out sunscreen and we ended up looking like lobsters. Bring your own sunscreen! We paid $13 for a bottle in a grocery store in St. George, it was crazy!

This is a pic of the Shady Side, I didn't catch the names of this group but they are from SLC and actually knew some people that I knew which was kind of neat.

Jessi was a trooper even though we put her on routes way over her head all week. She probably worked twice as hard as anyone else.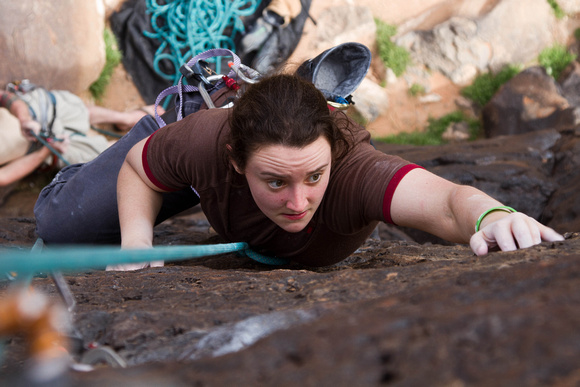 I just included this as a beta photo of the sunny side of the Black Rock area. The routes aren't super tall but there is an abundance of different routes at all different grades. The approach is easy and the rock was nice and warm even if it was still winter time.
On our adventure we found what may be the only mud puddle in Southern Utah and felt the need to drive through it, due to this escapade my Xterra is still red. We all got a laugh out of it, especially when we had it valet parked at the Bellagio, but that story is going to have to wait for the next blog when I cover the Red Rock Rendezvous.